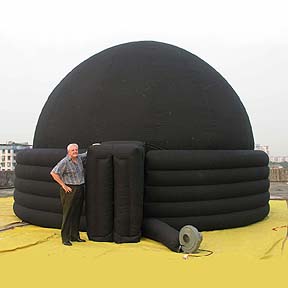 People who are learning about mobile planetariums for the first time often ask the same question … "Why can't we learn about the night sky simply by going outside in the darkness and looking at the real night sky?" That is a very reasonable question, indeed! There are several reasons why it is preferable to view a high-quality replica of the night sky from the comfort of a Go-Dome portable planetarium, rather than limiting yourself to learning about astronomy in your backyard.
The biggest reason why mobile planetariums are such a necessary tool for educating people about astronomy is that light pollution in many areas completely obscures the view of the Milky Way. And this problem will only get worse over time as the population grows in cities and suburbs, and continues to encroach on rural areas. Each time you step into a portable planetarium, you know that you will have an unobstructed, crystal-clear view of the nighttime sky.
Additionally, mobile planetariums bring the entire universe down to earth, in a sense. Even if an amateur astronomer has the best telescope that money can buy, and manages to find a remote far-flung spot where light pollution and obstructions from tall buildings are not an issue, there will be limits to what he or she will be able to see on a given evening. Some of the most fascinating components of the Milky Way are the most difficult to see. Some are visible only at certain times of the year or if one is lucky enough to be "in the right spot at the right time."
Technology is improving our world in so many ways, including helping people learn about astronomy. Observing the night sky in its natural state, by going outside, and then viewing an unspoiled version of it from inside a Go-Dome mobile planetarium will ensure that you have a comprehensive understanding of all of the many wonders and facets of our solar system.