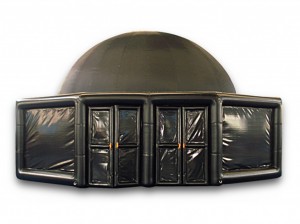 Go-Dome offers a wide array of portable planetarium products that are designed to appeal to customers with specifications and needs of all kinds. In other words, the company's product line truly does offer something for everyone. After all, says Go-Dome President Gary Young, "Go-Dome's key mission is to educate people everywhere about the wonders of the night sky. In order to achieve that goal, it only makes sense that we provide customers with products that will work well in different venues, and with varying audience sizes."
The top-selling product in Go-Dome's line of portable planetariums continues to be the standard Go-Dome. The appeal of this product is its versatility; it is easy to set up and transport from one place to another. Go-Domes in the 4- and 5-meter size are so compact that they can be checked as luggage on most standard airline flights.
Some customers, though, are not as interested in portability as they are in providing their patrons with an authentic planetarium experience. Go-Dome's top-of-the-line Zodiac dome meets this need. The Zodiac is offered in sizes ranging from 7- to 10-meters in diameter. This permanently inflated dome truly is a sight to behold. Once inside the air-locked dome, as viewers stare up at the dome screen, they will be transported to another universe and will enjoy the full planetarium experience.
Inflating the huge Zodiac takes about 3 hours. Thanks to a ropes system that stretches across the inflated interior walls, the dome remains standing and in upright position, even if the interior fan is turned off at the end of the day. The Zodiac can withstand plenty of wear and tear; its name derives from the Zodiac inflatable boat. The tubes and door of the Zodiac planetarium are constructed of the same durable vinyl material as the Zodiac boat.
Whether you need a portable planetarium to thrill a large or small crowd, in an expansive or a compact location, Go-Dome has the ideal dome for you!