Those who are active in the astronomy community already will be well acquainted with what it is like to experience a Go-Dome firsthand. But many others — people who may be intrigued about the technology and may be considering securing a Go-Dome for a school or public event, for example — have never been inside a portable planetarium.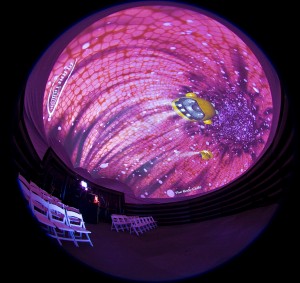 What is it like to experience the magic of the night sky from the inside of a Go-Dome? Well, it is just that — magical. But the magic is rooted in science and state-of-the-art technology.
Go-Domes feature Airlock Door Systems, comprised of vertical air tubes, which keep the domes inflated as visitors enter and exit. These tubes can be moved to accommodate strollers and wheelchairs. The door opening is 6-feet tall, so most visitors can walk in without having to stoop down. Inside the dome, an operator runs the projection system, assists guests, and opens and closes the Velcro-latched doors as needed. Go-Dome presentations can be carried out with the dome door open or with it closed. With either option, vents pump fresh air into the dome at all times ensuring that guests are comfortable.
The important thing for portable planetarium novices to realize is that at no time are they "trapped" inside the dome. Audiences are free to enter and exit the dome whenever they wish. This is a key selling point of Go-Domes: The Airlock Door System significantly reduces the odds that someone inside the dome will begin to feel uncomfortable, overly enclosed, or claustrophobic. The more likely emotion they will be feeling is excitement and anticipation, as they watch the night sky miraculously unfold in front of their eyes.
Reading about Go-Domes and viewing pictures of them simply does not do justice to what the portable planetarium experience is like. To gain a true understanding of the technology, contact Go-Dome (jbrady@Go-Dome.com) to find a distributor in your area who can demonstrate the unit for you.