We have discussed domes of inflatable planetariums and the various entrance systems available in my previous blogs. Now let's continue on our virtual tour inside and look at the dome screen.
At first blush, one might think a dome screen should be pretty simple: a bright white canvas–as white as possible–waiting for the art of an astronomy program to be projected onto it. This approach was adequate when planetarium programming was limited to star fields. Everything was black except pinpoints of light–which needed to be as bright as possible. In those days of simply projecting star fields, it didn't much matter if the screen was wrinkled. Inflatable domes are by nature a fabric product that gets inflated and deflated, packed and unpacked, so wrinkles were inevitable, but again it didn't matter. Wrinkles were not noticeable when everything was black with white pinpoints.
Star fields are still integral to astronomy education, but other media have crept into programming. Now it is nearly unthinkable to present a program that does not include still and moving graphics and images that project much brighter. The experience becomes more like what you would expect in a movie theater.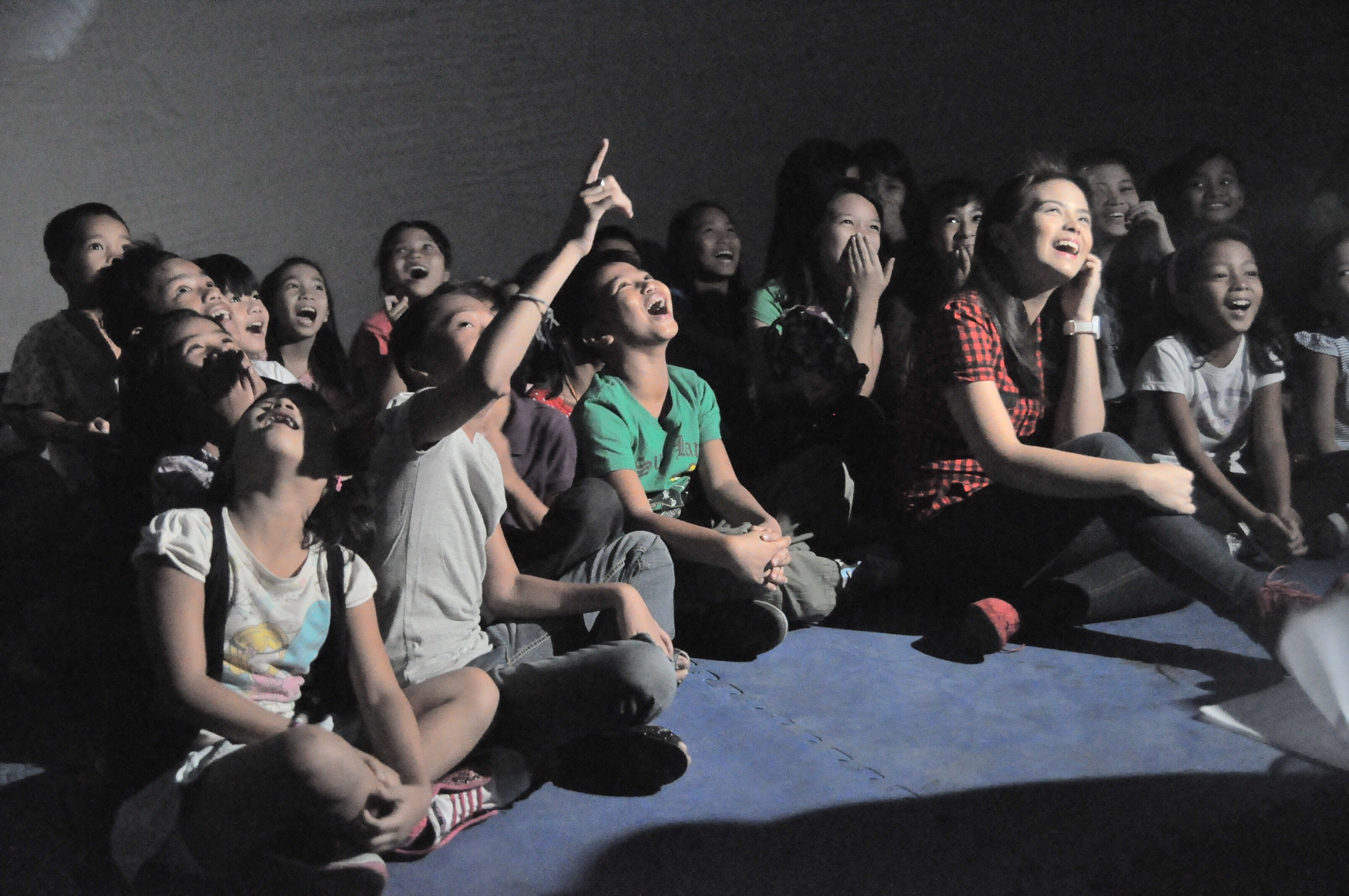 As you know, a planetarium is a theater where the audience is, for all practical purposes, surrounded by the screen. This makes for a great immersive experience, but it also has its problems. In a movie theater, the screen occupies only one wall of a cubical space. The attention of the audience is focused on the screen, and no one cares whether the ceiling or the back of the theater is illuminated during bright scenes in the movie. Likewise, if the movie has a dark scene, the image is not compromised by light reflected off the back of the theater.
This is not the case in a domed theater, however, as most planetarium operators know all too well. Bright images on one side of the dome blow out the star field on the other. This effect is known as crosstalk (crossbounce or cross-bounce in some circles). A bright white screen maximizes crosstalk, and also highlights any wrinkles during bright scenes.
Go-Domes was a leader in reducing crosstalk in portable planetaria. We studied the problem and experimented to find the optimum surface texture and shade of gray. A challenge we found was the need to consider that projection systems differ. For instance, while a darker gray may be optimal for reducing crosstalk (or crossbounce or cross-bounce) when working with bright light sources, it may be too dark for a projector with a relatively dim light source. While we make and recommend the Newtonian 2 Spherical Projection System, we know that there are other fine products out there and we needed a solution that considered them as well.
As a result of our testing a variety of projectors, Go-Dome interiors have a specially developed, dull gray micro surface that minimizes both crosstalk and the appearance of objectionable wrinkles.
Like crosstalk, light seepage can compromise the viewing experience. We already discussed entrance systems as a potential source for unwanted light. Most reputable dome manufacturers have satisfactory measures to address this; it is simply a matter of finding the right entrance system for your needs. Another potential source of troublesome light is where the dome meets the floor. Go-Dome and some other manufacturers incorporate an internal skirt at the base of the dome to minimize this.
By nature, however, inflatable planetarium domes are somewhat buoyant. The same air that supports the dome can raise it off the floor if overinflated. By rising off the floor, the excess air escapes to correct the situation. To avoid lift-off, Go-Dome created another innovation to inflatable dome technology: base vents. If the dome becomes overinflated, these vents automatically open to release the excess air and lift-off is averted. The vents contain baffles to prevent light from coming in as air is going out.
I have not discussed projectors or inflator fans. Projectors will be discussed in a future blog, but in the meantime, I suggest readers consider the Newtonian 2 Spherical Projection System.
Go-Domes and many other inflatable planetarium domes are designed for inflation with off-the-shelf carpet fans. These are stocked by most hardware stores. We recommend buying a quality fan. Typically, the more expensive fans are more dependable and run quieter, which are considerations when presenting programs.
Go-Dome inflation connections can be custom-made to fit other inflation devices on special order.