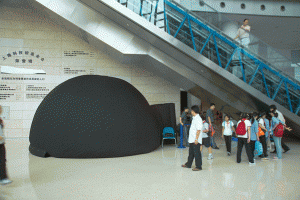 Go-Domes™ are designed to work with all projection systems offered on the market today. We manufacture the worlds finest inflatable planetariums. To compliment our extensive selection of domes, we also manufacture our Newtonian™2 projection system and scratch resistant Go-Vex™ spherical mirror.
Go-Dome™ mainly sell wholesale to our distributor network around the world. But we will sell retail to anyone who is interested in buying a dome directly.
To become a qualified Go-Dome™ distributor, you need to commit to selling at least 6 domes per year and provide a marketing plan on how you intend to address your market.
At this time we have direct distributors in the US, Spain, Italy, Australia Japan and China. Many of our distributors have sales offices throughout the world. And each of our distributors provide unique solution to projection, content and service. For information about a distributor in your area, feel free to contact us at the email address below.
If you would like to become an authorized distributor of Go-Dome™ please contact us.