The geodesic dome is often associated with R. Buckminster Fuller, but he did not invent the structure. An early version was created by Walther Bauersfeld to house the first modern planetarium, which opened in the German city of Jena in 1924.  This was a temporary structure built atop a Zeiss factory building to demonstrate the company's optical projector.
Go-Dome, your source for the finest inflatable planetariums, continues this tradition with an innovative line of outstanding semi-portable and portable geodesic domes for planetarium, classroom and exhibit use. They open up a world of possibilities for educators, exhibitors and entertainment.
That first planetarium, dubbed "the Wonder of Jena," was such a success that others soon followed. The Zeiss Planetarium opened July 18, 1926 and is the oldest geodesic dome still standing. Obviously, these domes are proven to be sturdy and durable.  One of the reasons for this is the geodesic dome is based on one of geometry's most fundamental structures: the triangle.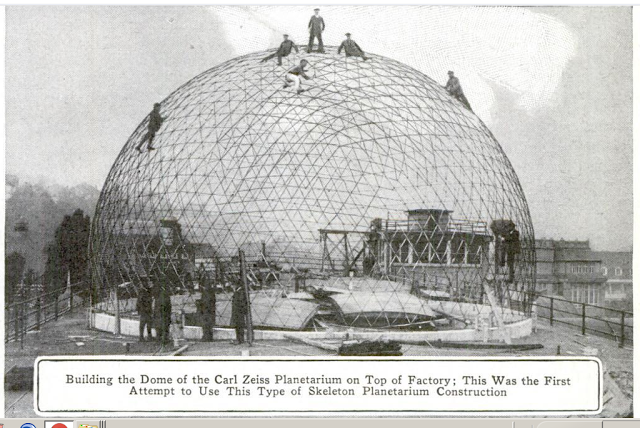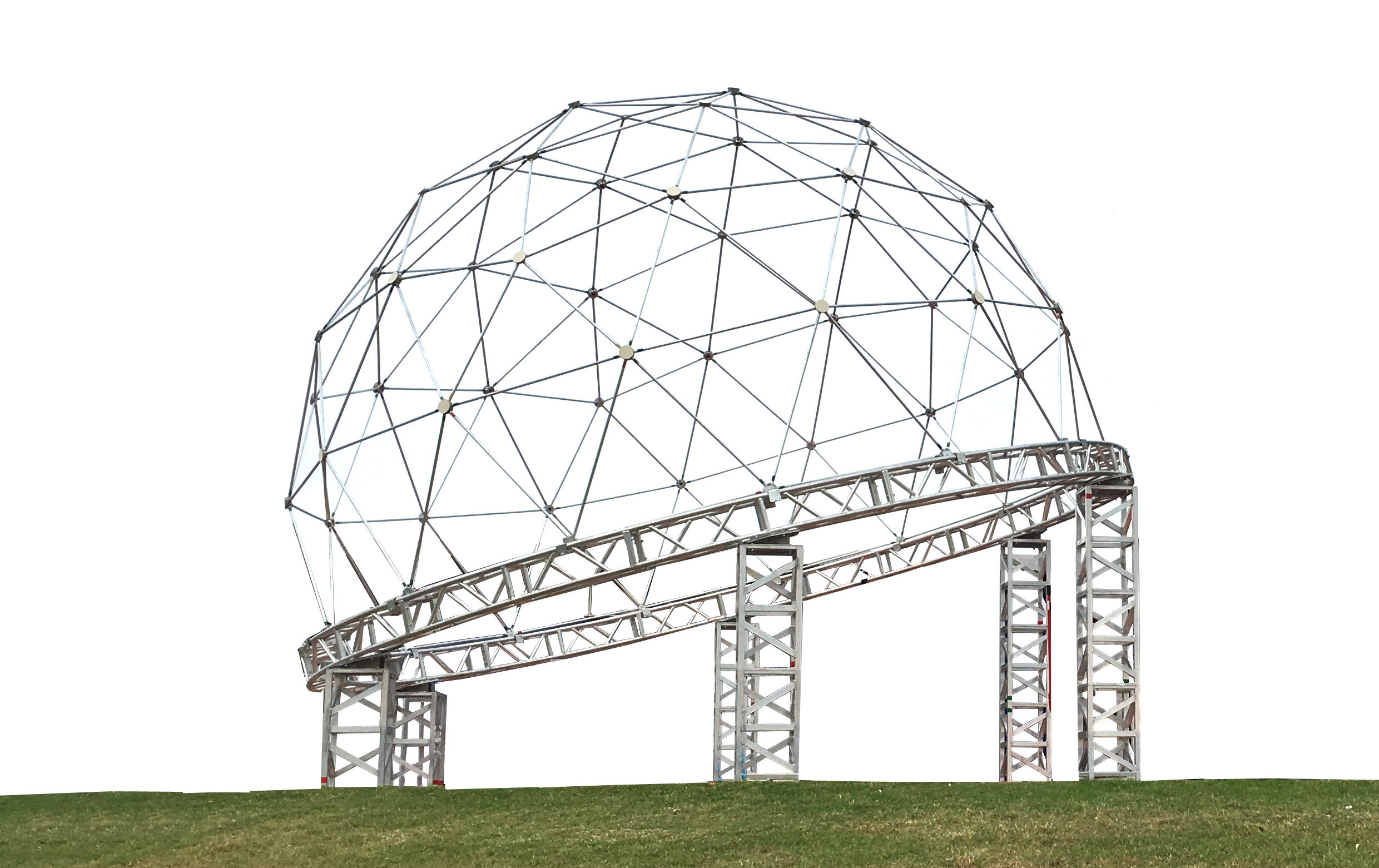 The Geo-Go-Dome gives the structure a 21st century enhancement with a unique, negative pressure dome wrap! Using the same durable fabric that has established Go-Dome as the source for premier inflatable domes, Geo-Go-Domes add portability to geodesic domes. Three people using common power hand tools can erect a Geo-Go-Dome in an amazingly short time.
With the aluminum structure in place, the fabric wrap dome cover–once negative pressure is created with a simple fan system–provides a smooth, hemispherical inner dome that is ideal for projected images, such as star fields, videos, product information, performance art or anything else you may imagine.
Inflatable planetariums require continual, positive pressure airflow to hold them up. Without this airflow, they collapse until inflated again. Also, during use guests must enter and exit through an air lock that prevents the positive pressure air from escaping. Even without power, Geo-Go-Domes remain standing and only need a relatively minimal amount of negative pressure to hold the inner dome in its hemispherical shape. The sufficient amount of negative pressure is achieved quickly with the Go-Dome fan system and is apparent as the outer dome hugs the bracing of the geodesic frame. Inside, the inner dome is ready for your show within minutes of turning on the power!
Freed from the need for continual positive pressure, the Geo-Go-Dome may be configured in a number of different ways. Sidewalls may be left off for a more open viewing experience. The dome may be tilted to provide a sensation of theater seating while the viewers actually share the same level floor.
The Geo-Go-Dome is ideal for use for trade shows and other temporary installations where set up over a period of days is expected. They naturally isolate your audience from any surrounding distractions so they can focus on your message and become immersed in your program, whether that is astronomy or other educational program, product demonstration or video presentation. This immersion programming is becoming more and more popular.
Go-Dome's acclaimed Newton 2 projection system is the ideal compliment to a Geo-Go-Dome. With an operator providing a laptop, HD projector and sound system, digital program content is simply projected on the curved mirror and then reflected onto the inner dome. The convex mirror is lightweight and specially coated to resist scratching.
With the end of the last program of the day, the operator simply shuts off the fan.  The dome wrap will deflate, but the geodesic dome remains sturdily in place, waiting for the next show!
Our 5-meter diameter Geo-Go-Dome is ideal for indoor use. Our 6-meter and 8-meter Geo-Go-Domes can be used indoors or outdoors under certain restricted conditions. Once erected, the Geo-Go-Dome can be left standing outdoors for up to 20 days through 20 mph winds with gusts up to 45 mph. Or you can set it up inside for longer-term exhibit or classroom use.
While Go-Dome maintains our leadership in inflatable domes, our geodesic Geo-Go-Dome engineering provides adaptability for custom applications not achievable with a positive pressure structure. By combining our domes with the Newton 2 projection system, the sky's the limit to your programming and exhibiting possibilities.
Contact us for more information on how Go-Domes can bring an exiting new dimension to your presentations.